Main Content
Out Now
A SOLDIER'S SECRET
Kristin James's morning run turns deadly when she's attacked by a stranger who's after something her deceased soldier brother stole overseas. Her neighbor Sergeant First Class Lucas Murphy steps in to help her and won't let her brush the attack under the rug. He'll do everything he can to keep Kristin alive, but he can't tell her that he's under orders to investigate her link to her brother's misdeeds. Kristin has no idea what the bad guy is after and doesn't want to believe that her brother wasn't on the straight and narrow. But as evidence against him piles up, can they catch the criminals without becoming the next casualties?
John 16:33 (NIV)– "I have told you these things, so that in me you may have peace. In this world you will have trouble. But take heart! I have overcome the world."
What Does It Mean to be Fearless?
I sought the Lord, and He heard me,
And delivered me from all my fears.
-Psalm 34:4, NKJV
An angsty romance that kept me squirming right to the very end. In fact, my tummy was in knots for most of the read. Bailey doesn't play nice with her characters. She ups the tension and twists the plot and stretches the conflict so tight I didn't see how a happily ever after was possible. She should be reported for cruelty to characters.

Best Reads
for Quilted by Christmas
Bailey's characters bring awareness to the battles and unseen scars that our soldiers returning from war deal with every day. Strong storytelling and appropriate pacing make this an exciting tale. 4 Stars
-Bailey skillfully addresses the stigma associated with mental health services and the military. As a military wife, Bailey generates characters and a plot that are multi-layered and wonderfully unpredictable. 4 1/2 Stars

RT Book Reviews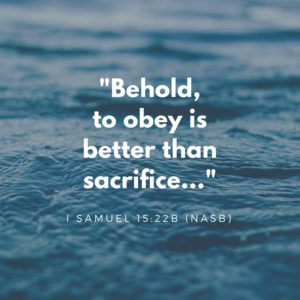 So, I was reading the Bible this morning and I hit I Samuel 13-16.  It's the essentially inclusive story of King Saul's rise and fall.  As many times as I've read it before, I don't think I've ever seen quite so completely all that Saul did that indicated his character was in trouble: 13:9–he offered sacrifices […]